Want Action? Think Auction!
Our team of nearly 30 full-time professionals is ready to put their experience and knowledge to work for you. Let us create a custom solution tailored specifically to your property that achieves the highest possible sales result.
Contact Agent
Residential
Our team offers customized selling options for all residential properties, including move-in-ready homes, quality properties in need of updates, and rental houses.
Learn More
Premier
Auction leverages the market to find a true valuation as unique as your luxury listing. Let us design you a personalized plan that maximizes your property's value.
Learn More
Commercial
We sell all types of commercial properties, including retail, office, development, industrial, warehouse, restaurant, hospitality, recreational, and turnkey businesses.
Learn More
Farm & Ranch
Let us leverage our nation-wide reach and brand exposure to bring competitive bidders from across the country to your land auction for the highest price per acre.
Learn More
Personal Property
Estates, collections, business liquidations – we manage personal property auctions with a custom and streamlined process that includes appraisals and a quick timeline.
Learn More
Benefit
McCurdy is a family owned company with deep roots in the Wichita area. We offer our auction services to local charities as a way to give back to the community.
Learn More
Industry Leaders are Here for You
Our expert team has years of auction experience. Through innovation and strategic thinking, we continue to achieve superior auction results for our clients. The past few years have made a resounding impact on our company, and we are looking forward to the changes and growth opportunities the next few years will bring.
Contact Us
Let Us Do the Work for You
Our skilled team provides customized selling options for a range of residential properties, including single- and multi-family houses, premier homes in subdivisions and on acreage, and investment properties. With a proven process to assist you through the selling steps, the McCurdy team does all the leg work for you.
Nearly 30 staff members are dedicated to your property-specific selling strategy through four main departments – auction, pre-auction, marketing and closing. The innovative and unique approach McCurdy offers includes a robust marketing plan as well as a "boots-on-the-ground" mentality that brings the most competitive bidders to your auction.
Contact Us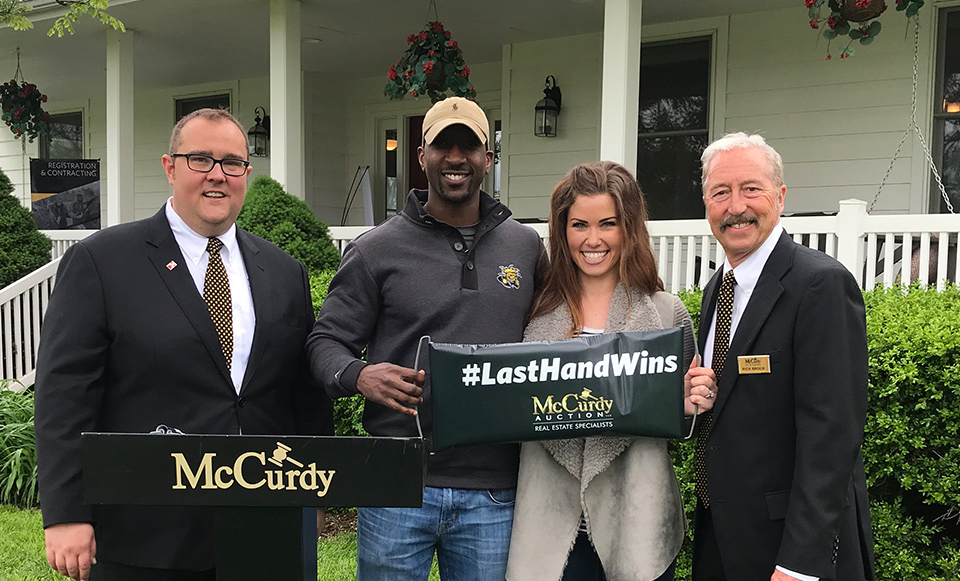 #1 Auction company in total volume and transactions in South Central Kansas MLS.
2022 Annual Report
CONTACT MCCURDY
Talk to an agent about creating a custom solution.