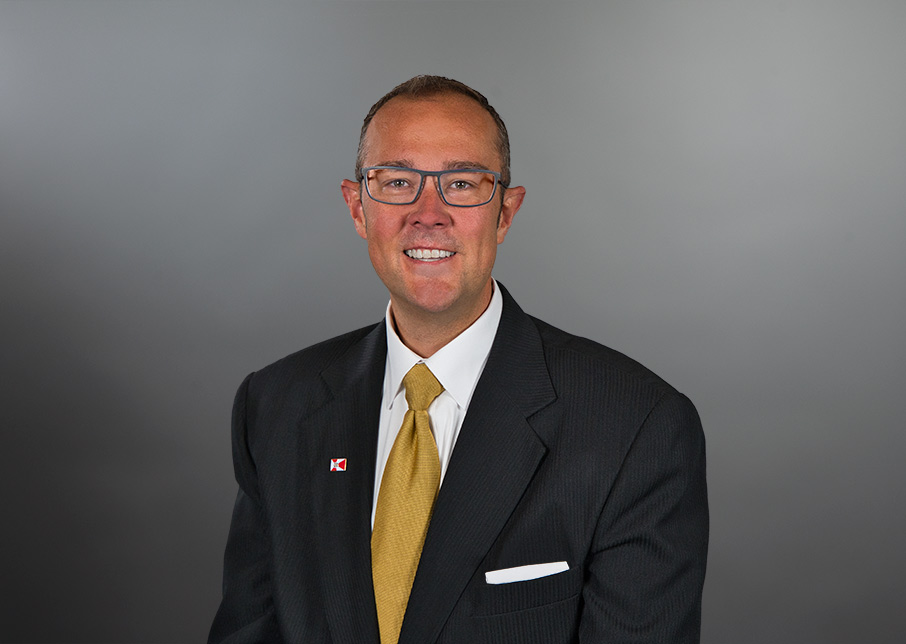 Braden McCurdy
Chief Executive Officer, Broker & Auctioneer
As a leading real estate professional in the industry, Braden McCurdy has an unparalleled approach to successful real estate transactions. With his visionary leadership and drive for success. Braden consistently places annually in the Top 10 Realtors in South Central Kansas for most units sold out of 2,000+ agents.
Having grown up in the auction industry, Braden is passionate about the real estate industry and continuously looks for new ways to increase the success of his clients' property sales. He is credited with developing McCurdy's web-based content management system for real estate auctions to better handle large volumes of real estate auctions and transactions, allowing himself and other McCurdy agents to better serve their clients' needs and goals.
Braden has a long record of successfully assisting accountants, attorneys, bankers and other corporate sellers. He has been recognized annually with the Master's Club Award from the REALTORS® of South Central Kansas for no less than $5 Million in annual sales since 2004. His specific areas of expertise include counseling individuals and corporate clients with regard to investment opportunities, risk analysis, and monetary returns.
Company History
November 2016 – Present - Chief Executive Officer, Broker & Auctioneer
October 2012 – Managing Broker / Auctioneer
October 2005 – Associate Broker / Director of Marketing
January 1999 – Realtor
January 1994 – Clerk & Cashier
Industry Involvement
National Auctioneers Association (2007 – Present)


(2014 - 2019 Advocacy Committee), (2020 - 2023 Promotions Committee)

Awarded Designations:

Certified Auctioneer Institute (3 yr. program)

Accredited Auctioneer of Real Estate

Auction Marketing Management

Accredited Auctioneer of Real Estate Designation Instructor – 1 of 3 National Instructors

Kansas Auctioneers Association Member – (2007 - Present) (2019-2021 Board of Directors), (2020 Vice President), (2021 President-Elect), (2022 President)
South Central Kansas MLS (Member since 1999) (2009 – 2013 Board of Directors) (2012 President)
Realtors of South Central Kansas (Member since 1999) (2014-2016, 2020-2023 Board of Directors), (2021 - Secretary/Tresurer), (2022 - President-Elect), (2023 - President)
Kansas Association of Realtors (Member since 1999) (2017, 2020 Board of Directors)
National Association of Realtors (Member since 1999)
Instructor for The Ohio Auction School
Community Involvement
Wichita Business Journal – 40 under 40 (2012)
Wichita Business Journal 40 under 40 Selection Committee (2013)
Wichita Wagonmasters Member – (2010 – Present)
Member | Dean's Advisory Board | W. Frank Barton School of Business | Wichita State University (2020 – 2023)
Union State Bank | Advisory Board of Directors
Education
Wichita State University (1998-2002) – Bachelor's Degree in Entrepreneurship - Minors: Marketing & Management


Scholarships

Daniel Carney Endowed Scholarship

Spurrier Endowed Scholarship

William L. Graham Scholarship

Barton Entrepreneurship Scholarship

Extra-Curricular

Beta Theta Pi Fraternity

Delta Sigma Pi Business Fraternity

ACE (Association of Collegiate Entrepreneurs)

Interfraternity Council

Student Activities Council

Real Estate Sales License – State of Kansas – Obtained in 1999
Real Estate Broker License – State of Kansas – Obtained in 2005
Real Estate Broker License – State of Colorado – Obtained in 2018
Browse Auctions Managed By Braden McCurdy:
Upcoming
Pending
Sold
AUCTIONS CURRENTLY MANAGED BY Braden McCurdy
TRADITIONAL LISTINGS By Braden McCurdy